If your security company mainly uses QuickBooks to manage your subscriber accounts and jobs, you've probably asked this question:
"Would we be better off with more industry-specialized software?"
The answer depends on your company's situation, and how much friction you are encountering while trying to use QuickBooks to manage things.
Designed For What Purpose?
Our company has used QB for over 20 years. It's easy to use for booking our revenue, paying bills, running financial reports. At the end of each tax year, we just create an Accountant's Copy of our company file, and our tax guy does the rest.
QuickBooks is the classic SMB accounting package, as that is exactly what it was designed for. QB is almost universally supported among accountants. It's not an alarm company software package, nor will it ever be.
BUT–we wouldn't have survived if QB was the only software we used. We've built powerful, proprietary software that makes it efficient for us to issue the tens of thousands of monthly invoices, and manage millions of dollars in payments each month for our dealers. It was designed to do exactly that.
Heart Or Lungs?
Which is more important—your heart or your lungs? The answer is that both are indispensable. The same is true of software. We need our invoicing and payment software to streamline the way we handle our billing and payments business. Likewise, we need QB to help us properly 'count the beans.'
Beyond about 500 accounts, for most dealers without specialized alarm company software things get "clunky". This business has nuances that become difficult to manage in a generic package like QB. If QuickBooks is the lungs of your accounting operations, Cornerstone is the Heart that keeps work flowing.
Cornerstone handles 100% of your recurring, saving installers hours each month.
Storing Key Data
For example, central station ID numbers are a key element of a subscriber account. Your software needs to provide that as a searchable field. Other customized fields could include:
Panel brand and model
Equipment list installed at each subscriber premises
Active since date
Cancellation reason
Contract beginning and end dates, and contract type
Recurring charge details—next date, service type, bill cycle, charge amount
Contact/call list
Zone list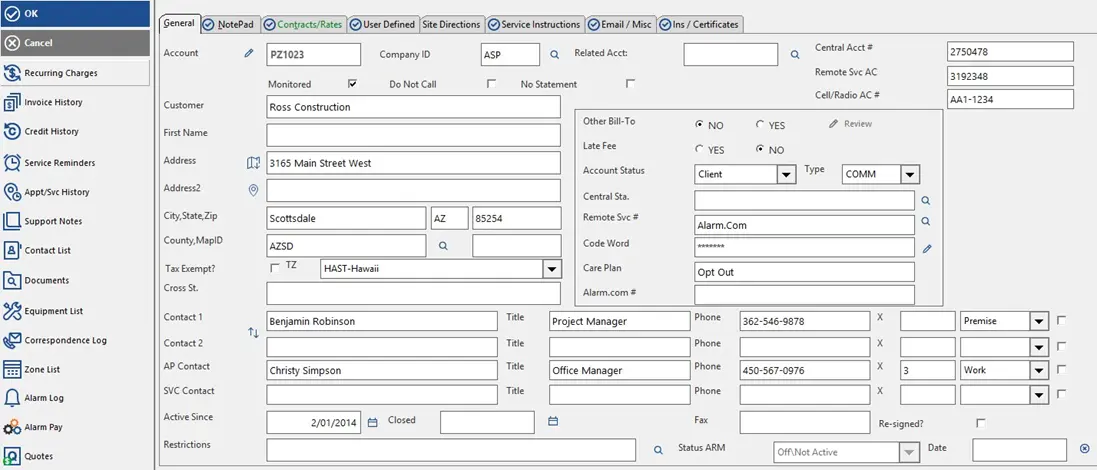 Cornerstone's software package provides all the details an alarm company needs.
QuickBooks will NEVER have places to store all this information for easy retrieval. But when you're managing an inbound call from a customer, you should be a click away from ANY of the above fields, as well as their invoices and payments. Otherwise, you need to dig through paper files, or different software, to get your customer's question answered—not ideal.
Can They Co-Exist?
Nearly all of our customers use both our specialized alarm company software and QuickBooks. They can and do co-exist beautifully. Why? Because our software is designed for daily security account management, and we make it easy to feed the financial totals into QB. So our dealers have the benefits of efficient, specialized software, and the benefits of an easy and well-supported accounting package.
Sometimes dealers say: "But, I want everything in one place!" I don't blame them, a single package would be great. But that would mean investing to re-invent a wheel—QuickBooks—that's already been invented. It's far more cost-effective, to marry an alarm company software package with QB.  Booking monthly totals might take 10 – 15 minutes a month. Ours is a hybrid solution, and one that works.
Security-Specialized Power
More important, because our software is industry-specialized, we've built some powerful tools that allow our dealers to save tons of time on certain tasks. We integrate our platform with most of the major central stations. That means our dealers can pull in their monitoring record details in a few seconds. That saves data entry time, and enables a more detailed service ticket…e.g., tickets include the zone list.
That linkage to monitoring platforms also enables a very fast, robust "central station audit." These audits allow our dealers to check their billing list against their monitoring list quickly. That allows them to save money, and often find new revenue—billing for services not set up in billing. It's a win win.
Meaningful Reporting
QuickBooks helps count the beans, but it cannot tell you what your annualized attrition rate has been…plus, give you a breakdown on cancellation reasons in a neat pie chart. Our software can, along with reports on other key metrics that matter to our dealers.
Our reporting can show you exactly why a customer leaves, or your growth through a month/quarter.